Is your agency a shark?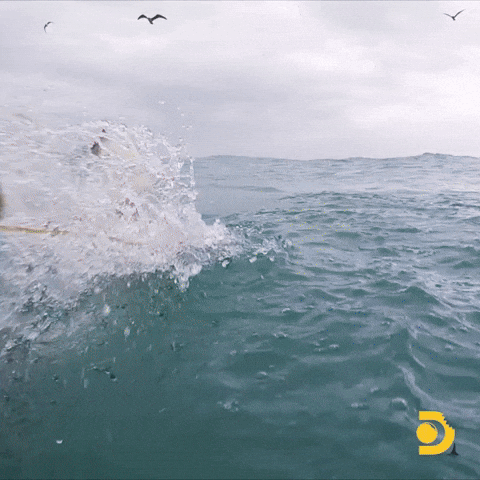 No, not literally but figuratively. By shark, I mean are you actively moving and seeking prospects? Maybe you don't know where to start.
That's ok. LinkedIn outreach may feel intimidating, but we can help you with this article.
Like a shark, your business should be continuously filling the "pipeline" and setting appointments to grow but you know this already.
Like a shark, if your business stops hunting, it will die.
Well, if you hunt in the plentiful deep blue of the LinkedIn waters, you may just become a big shark. There are enough qualified prospects (fish) in the ocean, you need not worry about other sharks in the water.
Aim to be Jaws, the big shark. Jaws went straight for the big wins by going after unsuspecting swimmers on the beaches. Jaws was relentless. Jaws had motivation. It's Jaws, right? I digress…
(Funniest quote from the movie Jaws: "You're gonna need a bigger boat.")
But you need to start right now on your LinkedIn outreach, and it's easier than you think.
However, LinkedIn prospecting takes some patience and some effort to be effective. You will need to follow some basic steps and be a little creative to get the attention of prospects, but I feel the reward is worth it.
Let's talk about how to get going right now with all the steps… (insert Jaws theme music here)
Get Your Profile Sharp
Getting your profile up to date and full should be standard for any social media outreach. But it is worth mentioning just to be sure you are ready.
After all, this is where all the curious prospects will go first as you start to reach out. You will want the profile to be complete.
Your profile picture should be professional. You should have the banner selected as well. You want to be sure your profile exhibits professionalism so you are not dismissed as easily.
Check out this profile here as an example:
In this example, you see a clear photo of Grant. You also can see how he uses his profile completely to sell himself. He makes a lot of money selling to other businesses, so follow how he does it (or pick another successful example of course).
This article will not go into depth about what to add, but you can read more detail on the Legiit Blog here. Be sure to read about the SSI analytics built-in to LinkedIn.
Set Goals for LinkedIn Outreach
Goal setting is needed for outreach strategies so you can gauge how it is performing. Goals may be different based on the business type, but you are an agency, so you will have a few goals fall into these categories:
Connections
Conversations Started
Content Engagement
Booked Appointments
These goals will be what ultimately gets the network growing and possibly get business flowing into the pipeline.
Be sure you have your ideal prospect in mind when going about these goals as well. You do not want to just work with anybody, right?
Set a realistic expectation to reach these goals. Track how you do over each month. Set numbers for growth after that. For example:
Month 1 goal: Connect to 300 CIO-level executives.
Month 1 stats: Connected to 315 CIO-level executives.
Month 2 might goal may be: Connect to 320 CIO-level executives.
And so on. You can see if you reach a goal, especially if the target is consistently reached, you may want to adjust the goal upward.
Since you are just starting, it will be hard to know what goals are realistic or not. So be sure to track it.
"If it's measured, it's treasured!"
This quote should be printed and posted in every office of your agency – or my case, just my office.
BTW, you may want to check this blog post out 10 Tips On Staying Focused And Improving Yourself to give tips on keeping your day focused.
Make a Strategy for LinkedIn Outreach
Setting a strategy goes hand-in-hand with your goals. So let's use the goals from our examples to show strategy examples you can use.
Connections – use this as a network growth strategy as well as a 'first message' strategy. When sending the connection, you can include a quick intro message to the other person.
Content Engagement – use the strategy to like and comment on people you may want to connect with. Include a post you may have recently liked or commented on when you send your connection request.
Ultimately, you will grow a network of your ideal prospects. Begin to work on them based on your goals: Start conversations, share their content on your feed, comment, and in the end, set the appointment.
We will get deeper into how to use strategies down lower in this article. But start with a basic strategy or strategies your agency will want to start with.
Keep in mind LinkedIn is not a magic bullet that will just feed you tons of exciting ready-to-buy prospects, you will need to not only massage the process but also work within the confinements of the LinkedIn system itself.
Account Limitations
When you have the standard (free) LinkedIn profile, you have some limitations. For example, you cannot message any profile you are not connected with as a 1st connection.
Translation: people you ask to connect with and agree to connect are the 1st connection.
If you see a "2nd" next to their name, you are not directly connected. This means someone you are connected with as a 1st connection is also connected to them.
You will also see "3rd" and "4th" and so on…. Kinda like 6 degrees to Kevin Bacon. So, we cannot directly message Kevin Bacon – unless we put the message in the "connect" request.
The limit to this with a free account is 2 parts:
You can only request so many connections per day before LinkedIn may ban your account. Especially new accounts are watched by LinkedIn's algorithm, so you will want to limit the number of connection requests to no more than 30 per day.
But to be safe, keep it to 10-15 connection requests per day until your LinkedIn account is "warmed up". Work up to 30 per day, but eventually, cap out at 50 per day.
The second limitation is the number of characters you can use in a message for a connection. For free accounts, you are limited to only 300 characters.
In some cases, this is probably best so we can keep our intro messages short and sweet.
Of course, LinkedIn solves this problem with their paid services of LinkedIn Premium.
This subscription allows credits to message contacts you are not connected with. They call this InMail. There are limits to this as well depending on the level you buy, but you can use this too.
If you have it in the budget, you may want to start with one of these subscriptions to boost your outreach goals faster.
Start the Outreach with Prospects
When starting, especially if you are on a free LinkedIn account, a quick way to start to prospect is to view your prospect's profile. Yup, that's a simple way to start your outreach. Stay with me on this one, ok?
Here's the process:
Search your prospective client in the search bar.
Select the "See All People Results" button.
In the results, look for profiles with a "gold" colored LinkedIn logo.
Go back to your search results, find a different profile, and click again.
When you have exhausted the "gold" logo profiles, go click all the others.
Rinse, repeat. …you are a shark, remember??
What does this do for your outreach on LinkedIn? I agree, this seems odd.
The "gold" logo means the user is a LinkedIn premium member. Premium members get alerts when someone views their profile, and LinkedIn will tell them it was you.
Playing odds here, their curiosity may (or may not) entice them to look at your profile. This is just to warm them up to see your name. We will set up to connect and message them later.
What about those profiles that didn't have the "gold" logo? Well, premium members can choose to NOT show this logo.
So this means that there could also be premium members that just don't want you to show it. According to a 2019 article on CIO.com, almost 40% of all 575 million+ LinkedIn users have a premium account. So, 4 in 10 you view, should get the message – and quite possibly see your profile.
This means more name recognition. On to connecting!
Primed to Connect
Now you are ready to start making connections. This is pretty simple to do. Remember, in the beginning, you want to limit this part to 10 or 15 per day.
Keep that number there for at least a month to be safe.
All the profiles you viewed from the previous search you will want to connect with. Don't worry if it takes you some time due to the daily connect limits. You will want them to have time to see the alert about your view anyway.
So be sure to schedule this a couple of days after you view the profiles.
Click the "Connect" button next to the profile. Now, to message or not to message?
This depends on your goals (see above). If you take the time to craft a message, the person could ignore the connection request and it will go to the void.
In the beginning, it may be easier to just connect. If you send a message, just make it a friendly introduction such as:
"I noticed you were in Kentucky. I was born there, Go 'Cats! – Glad to connect with you."
Or you could go to the professional level as well, like this:
"Fellow XYZ representative here from 2005! That place was great right? Glad to see you are doing well with your new company, chat soon :)"
Some marketers may use humor too but use it lightly since you still want them to connect with you (no rude, divisive or sensitive subjects).
Get Engaged (not the ring) with Your New Connections
Once you start getting connections accepted, do NOT jump on them with a pitch. That's a rookie move, Smalls!
Instead, be the LinkedIn connection you would want to have.
Be sure to react to things they share or post. If it is something about their business or success, comment on the post. Even a failure or lesson they learned – be engaged with them.
Another good way to get your name recognized by them is to engage with their extended network.
For example:
If you see people commenting on their posts, like and reply to that person within the post. Not only will this create more notifications on the prospect's side, but the extended network will notice, and perhaps view your profile.
Sharing their posts to your feed is also an additional way to get the prospect to see your name. Remember, LinkedIn will let these people know you engaged in some form, and guess what?
Your name is on every one of them!
And just like in your real-world network, you are the sum of your connections. Connect with the right people on LinkedIn, and before you know it, your network will grow.
Related: You may want to check out this article 5 Types of People to Surround Yourself With
Endorsement Time
This may be a bit "out of the box" but, it's still a way to be involved with your potential prospects on LinkedIn.
Similar to any engagement, sometimes you have the opportunity to add an endorsement to someone else's LinkedIn profile. However, this is only if you are connected with them.
Click on their profile, and scroll down. If you see they have other endorsements, you can chime in. When you click the + sign to endorse, LinkedIn will ask how you know them.
You can just select the option "have heard from others".
When you do this, be clever about it. You don't really 'know' the person, however, if they are a manager or a director, you can be sure that "Leadership" is something you could endorse for them.
What makes this nice is that the person you endorse will then be encouraged to "Thank you" with a message. Of course, it's typically a canned "Thank you" but, if you ask me, it opens the opportunity for you to engage with the conversation.
All of these actions eventually set you up to have a conversation with the prospect. That is where the rubber meets the road, right?
Time for the Conversation
All this hard work has now led you up to the point of it all. Starting the conversation.
If you have made yourself known (and have not been a pest) your contact has a higher chance of welcoming a conversation.
Be sure you understand these things first:
Your prospect's basic info
Find something relatable
Be short and to the point
Ask questions, be curious
Here is an example of what you could start with.
"Hey, Heather, your company's logo redesign looks amazing! I am probably in need of the same re-branding too. Who did you work with to get it done?"
Noticed I acknowledged something Heather posted? I also didn't send a long-winded comment.
Not to mention, my question was one asking for help. People LOVE to help others, so there is a higher chance she will elaborate on my question.
From this point, it is kind of an art form that you will learn as you go, however: DO NOT PITCH, DO NOT PITCH…. Do … not… pitch.
This is a conversation starter. As this conversation goes along, you ask questions. Keep it short because you will want to nurture these people who engage.
So when do we ask for the appointment?
Well, this is all determined by the other person, however, you could throw in other things that may pique their curiosity to ask you questions about what you do.
Let's use the same example, Heather.
Heather: "Oh, yeah we got our logo done by XZY Logoz. They are a small local business in our town, and we've loved what they did with our fleet vehicles too"
Our awesome agency: "That's great. It's nice to find local companies to do business with. I'll have to have them check out our logo because it's getting outdated, what do you think?"
This article isn't going to get into the process, but you see? Keep it casual. The flow will naturally get to see if you can help them with anything, especially if you KEEP ASKING QUESTIONS.
From that point, set the appointment and get them into your sales process.
Keep the Up the Motivation: also check out this post we put up to get you motivated for the sale!
Post Content
Yes, there is a lot of value in posting content to your LinkedIn profile. And yes, it is very valuable when it comes to LinkedIn outreach.
Content posting is kinda like SEO: it's a slow process, but the residual value is amazing.
Similar to your profile, your content will also show a lot about you and your agency. This is especially true when you post things people love to see on LinkedIn.
When you are not sharing other people's content, you should share some original posts. Not sure where to start?
No problem, use these simple ideas to get going:
What to Post to LinkedIn
Here is a simple list you can refer back to if you feel you don't know what to post for content.
PS: this also works for any other social media platform – but LinkedIn may give you better engagement.
Victories for you, or your agency
Failures or lessons learned
Something you are learning
Why you are adding/removing a certain service
Questions relating to your industry OR your client's industry
Tasteful humor relatable to your audience – use with caution
Be sure you follow some best practices as well. LinkedIn is still for professionals, and we certainly do not want it to become Facebook.
Here are some good rules to post by:
Keep the start of your post interesting so people want to read it
When possible, use relevant images to get people to stop and look
Don't overcomplicate the post, keep it simple for readers
Keep the posts fairly short, however, can be longer if providing good information
If you use hashtags, make sure they are the right ones for the post
What Not to Post on LinkedIn
This section will be pretty short, but worth mentioning so you don't step on a landmine and ruin any outreach chances.
Since you are portraying a professional agency, you do want to avoid these types of posts:
Ranting about topics such as a bad client, etc
Divisive topics in your industry OR your prospects
Explicit posts (duh, right?)
Anything else that does not open up a healthy conversation
Pretty common sense stuff, but it's worth mentioning.
Automation
If you search, there are no shortages of automated software to help you with LinkedIn automation. It almost feels like the industry is saturated.
That should tell you something: LinkedIn outreach works!
While we do not officially endorse any specific application or software, we can say there are some out there that will run some of the tasks for you.
Some of them, however, can be bad and run the tasks too fast or too often and get you banned, so be very careful.
Here are some things to look for when looking at software to automate the outreach tasks:
Is the company easy to reach for support or questions?
Does their software focus on proper configuration for throttling?
Any reviews? Good or bad?
Will you need to purchase anything else such as LinkedIn Premium or Sales Navigator
Look for user groups they have such as Facebook, etc.
Like most software, you want to use it with caution until you know for sure.
LinkedIn Outreach Can be The Fuel that Grows Your Agency
As you can see, there are many steps involved in LinkedIn outreach. The steps involved are easily scalable and yet quite simple.
Mixing in a great ability to have a conversation with someone will speed up the process as well.
After all, we still sell to people. People tend to do business with people they know, like, and trust. So focus on the relationship before you ask for more.
If you can understand your prospect, set goals, and follow the processes, there is no reason you cannot be the big shark in the LinkedIn ocean! We'll see you in the water!